So, it's that time again where new children's picture books have arrived and there are a few to watch out for. Here is a brief review. Enjoy!
Here it goes:
Duck, Duck, Dinosaur and the Noise in the Night
by Kallie George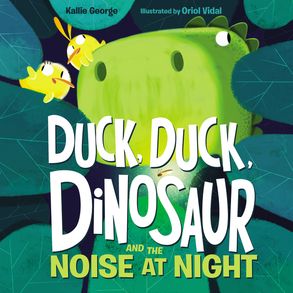 This is a follow on tale from Duck, Duck, Dinosaur by the same author. This time, Flap, Feather and Spike learn about noises in the night. The books gives some interesting solutions to the scary noise that the trio hear, but in the end, the joke is on Spike. This is a short and funny tale suitable for ages Preschool to 3 years.
If Your Monster Won't Go to Bed
by Denise Vega
In the same theme of 'bedtime,' this is an adorable tale; a step-by-step guide to putting your monster to bed. From brushing fangs, to reading a scary story, to singing a screechy lullaby. The protagonist has some interesting ideas and is knowledgeable about monsters, (but not dragons, werewolves or zombies). This book is a little wordier than Duck, Duck, Dinosaur but makes a funny tale for ages Preschool to 2 years.
Queen Dog
by Bridget Heos
Queen Dog has it all. Servants that prepare her food and give her toys. She sits on a lavish throne and is Queen of the Home. Until one day baby Catherine arrives and Queen Dog's world is turned upside down. This a sweet, short read for children ages 4 to 8 years and introduces the topic of a new baby coming into the home.
Heart to Heart
by Lois Ehlert
This is a book aimed at Preschool to age three, but it is just plain cute to read for all ages. There is very little description here and you'll have to look inside, but notice the play on words and letters to give a special message to those that you love. If you see this, take a moment to look inside.
Great, Now We've Got Barbarians
by Jason Carter Eaton
This book is so much fun. If you are trying to teach the value of cleaning up to children, then this is your book. Aimed at Preschoolers to age 3 years, this is a quick story with a great point. The pictures are awesome, the tale unique but funny, and the moral well-made. Definitely a story-time book and a good laugh.
A Season to Bee
by Carols Aponte
This is a book aimed at ages 3 to 5 years. If you happen to be doing a theme on colors with your child; or you would like to highlight the concept of the importance of being yourself; or perhaps you are doing a story-time on bugs, this is a great book to cover all three topics. It's rhythmic and quick and so very engaging.
This house, once
by Deborah Freedman
What a sweet story. It covers the idea that everything came from something. In this case, the door from an Oak tree, the roof from rock, bricks from mud, etc. It is again, a short tale aimed at ages 3 to 5 years. It's a great catalyst for discussion with a child about how things in nature could be used to build. A great book for our Summer Reading 2017 theme.
So there we have it, a quick review of some new books to look out for! Enjoy reading them for yourselves and reading them to your children.